You too can be a peacemaker. Leave your personal fingerprint and make a difference!
How does that work? The members of the CPA Switzerland are happy to tell you about our professional life as "Christian and Policeman" and would be pleased to receive an invitation. Because those who put on the uniform do not have to take off their faith!
In 2010, the CPA Switzerland published a "Police Bible" in the form of an ethics manual. In addition to interesting, helpful contributions on the subject of ethics and peace, it contains the New Testament and parts of the Psalms. Personal accounts of experiences give the book a special touch.
A topical subject, everyone is challenged in it – in their place, especially our security forces in the police, border guards, customs and military. This book is addressed to them first, but then also to all people in our society, because everyone can have a peacemaking effect by adhering to good ethical principles! This small handbook aims to introduce these and at the same time offer help in coping with difficult situations.
The book consists of three parts:
Teaching section on ethics (80 pages)
New Testament (Hope for all), selected Psalms, Proverbs
Moving life stories and help for people in need (80 pages)
Police officers report in an exciting and true-to-life way about a God who can be experienced in the challenges of everyday life, who gives courage and strength, helps to overcome fear, forgives guilt and gives hope. This book not only wants to be read, but the ethical principles it presents want to be lived.
The edition, which is now somewhat outdated, contains, in addition to the eternally current Word of God, some contributions by people who are no longer in their former office, which unfortunately makes it difficult to sell. In order to spread the word about these valuable manuals nevertheless, we have decided to conduct a gift campaign so that they will continue to find their way to interested readers. Of course, we are happy to receive voluntary donations. Orders to office@cpv.ch.
Up close
The police profession places special demands on physical and mental performance as well as mental resilience. In this gripping book, police officers from Germany, Austria and Switzerland report personally and openly on their everyday working lives.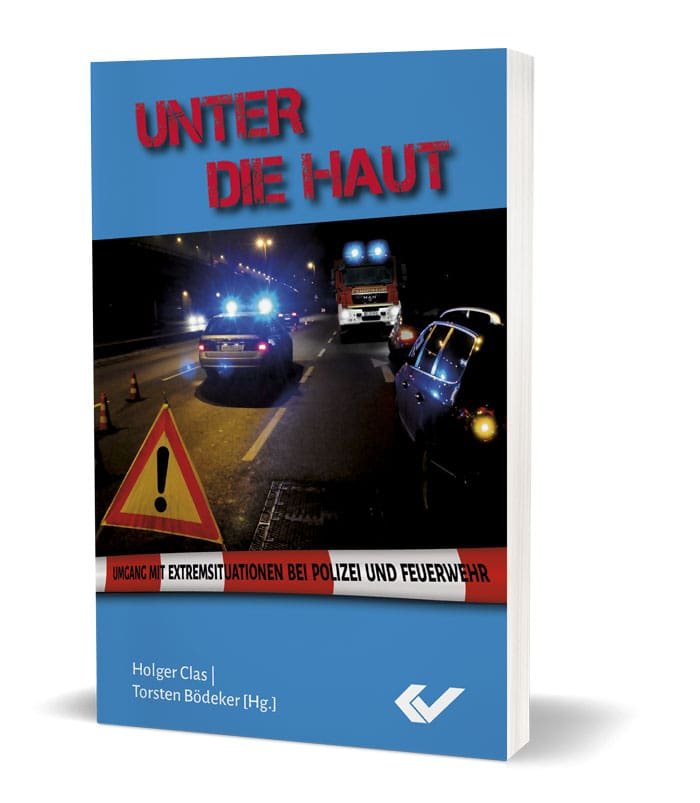 Under the skin
This book deals with dealing with extreme situations. Field-tested emergency forces report personally and openly about their everyday work.
"I hope that the new book will also raise awareness of the topic beyond police and fire circles" -Joachim Herrmann, Bavarian Minister of the Interior
Experience the police, fire brigade and ambulance service at first hand
Bluelightcamp: Be a policewoman, firefighter or paramedic for a week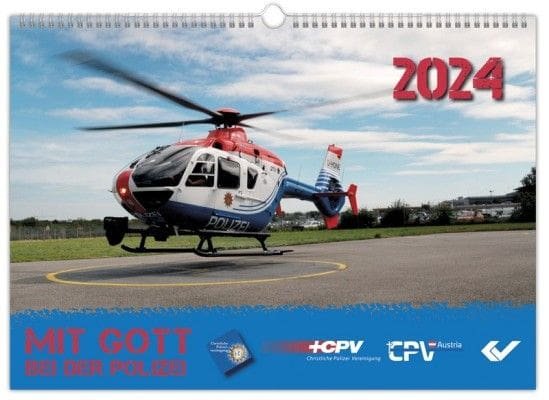 With God at the Police 2024

Publisher: Christliche Verlagsgesellschaft Dillenburg
Format: 29,7 x 21 cm
Weight: 150g
ISBN: 9783863537418
CPA Calendar: With God in the Police 2024
Strong photos from everyday police life with Bible verses: This extraordinary calendar from Christians in the police in Germany, Austria and Switzerland wants to show the flag and helps to take a stand: we stand behind our police!
A great gift for a birthday or Christmas:
Due to the good demand of the calendars 2022 and 2023, the Christian Publishing Company Dillenburg in cooperation with the Christian Police Association is again publishing a police calendar for 2024. It costs only CHF 5.00 (plus shipping costs) and can be ordered in Switzerland by e-mail: office@cpv.ch (only a few copies left in stock).
We look forward to receiving your order.
Courageous - A courageous path
Running time: 124 minutes
Language: German, English, Italian, Spanish
Subtitles: German, English, Danish, Finnish, Hindi, Italian, Norwegian, Spanish, Swedish, Turkish
Sony Pictures Home
Entertainment
Four men, one mission in life: to serve and protect! Four police officers who face danger every day. But then a tragedy strikes the family men personally. Their faith is shaken and they have to find their way back to God in order to get a grip on their lives.
Topic: Respect begins at home!
Available in specialised shops or order directly from fisheep's publishing.
Fireproof - Don't give up on your partner
Running time 117 min
Language: German, English
Subtitles: German
dtp entertainment DVD
Firefighter Caleb Holt lives professionally by the old code of never leaving a colleague behind. In burning buildings this principle is one of his instinctive actions, but in his marriage things are a little different.
A workbook for a marriage course can be ordered with the book.
Topic: A movie that can save your marriage!
Available in specialist shops or order directly in the  exlibris-shop.
The Grace Card
Running time: 97 minutes
Language: German, English, Italian, Spanish
Subtitles: German, English, Danish, Finnish, Hindi, Italian, Norwegian, Spanish, Swedish, Turkish
Sony Pictures Home Entertainment
After police officer Mac McDonald loses his son in an accident, years of bitterness and pain erase his love for his family and leave him angry at God and the world. Will Mac and his new partner, Sgt. Sam Wright, manage to help each other by joining forces, even though their differences, especially the most obvious one, are hard to hide?
Topic: Experience the power of forgiveness!
Available in specialist shops or order in the exlibris-shop.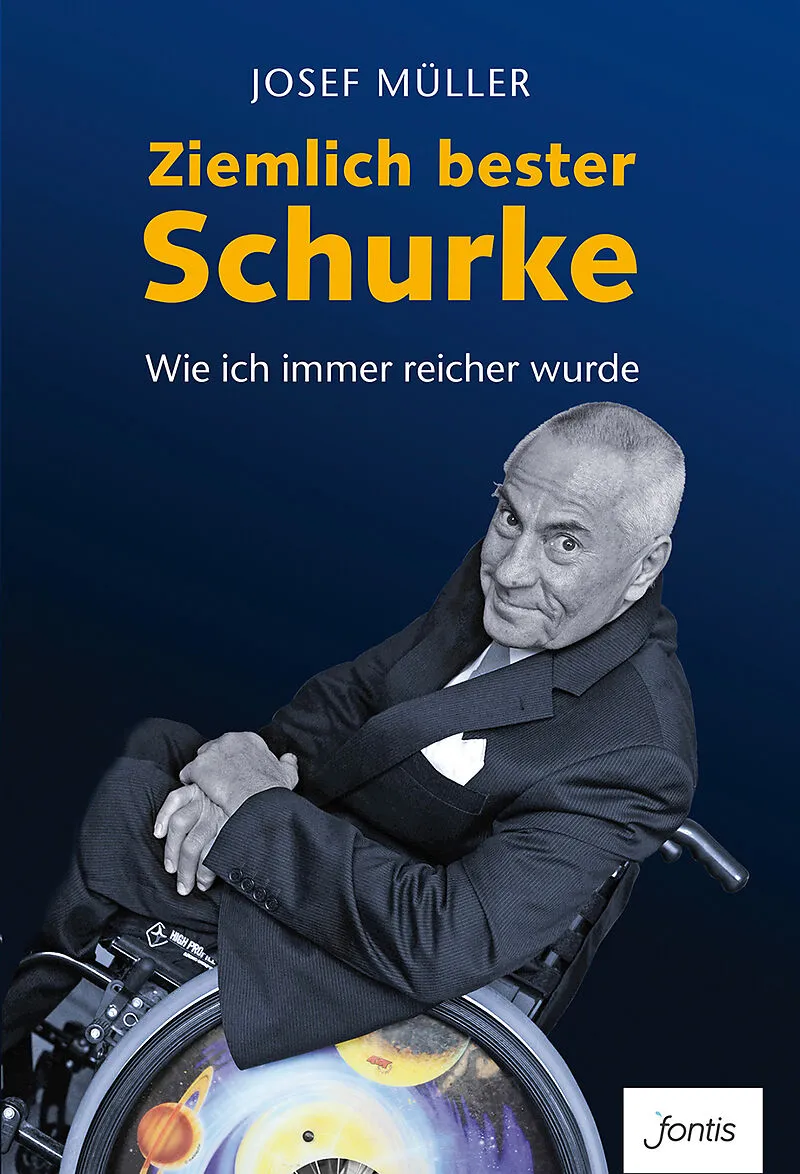 Pretty Best Villain "Josef Müller
DESCRIPTION
For Munich's chic crowd, Josef Müller was the insider's tip with whom to invest one's money. But the truth about the Starnberg tax consultant's breathtaking rise to the international jet set is different: His life had a criminal component – with a soft start and James Bond-worthy consequences. Soon he was being pursued not only by creditors, but also by the FBI on an adventurous flight across America. "You won't get me," Müller had let the investigators know by Christmas card. Müller's book is a turgid gangster epic only at first glance. If you take a closer look, you will discover a book of wisdom and self-knowledge: the account of a rich man who had to lose everything in order to find true wealth.320 pages plus 40 colour photo pages "I have known Josef for over thirty long years; I have seen him bursting at the seams – in every respect! – and I was often amazed. Now he is 37 kilos poorer, but all the richer at heart. It is a Saul-Paul story, frightening, admirable, worth reading!"- Charles Brauer, actor and "Tatort" commissioner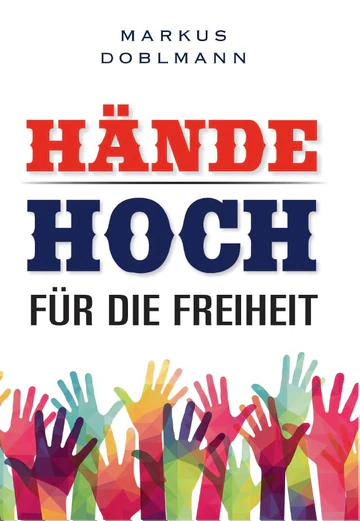 Hands up for freedom
DESCRIPTION
This book is for the edification and encouragement of uniform wearers (police officers, executive officers, customs officers, security, military officers) who are in doubt whether their profession is compatible with the values of the Bible.
How does God think about it – is there anything at all in the Word of God about it – am I allowed to carry and also use a firearm? Questions upon questions. And these are answered in a simple way. You will be surprised. Furthermore, the author gives testimony about his life with Jesus and brings a few examples from the police service how one can also serve humanity in faith.
New Handbook of Bible Prophecy
DESCRIPTION
There are many interpretations of the end times. This book differs from them in that it takes into account the rebirth of Jerusalem at the end of the church age. Starting from John 3, the author takes the reader into the Old Testament to lay the foundation for understanding and interpreting eschatological texts of the Bible.
Everything that the New Testament says about the end times can already be found in the Old Testament: Golgotha, the new birth, the Rapture, the two witnesses, the Whore of Babylon, the Antichrist, the false prophet and much more. Statements on end-time events must therefore be developed from the Old Testament and closely coordinated with it, because the Old Testament is given too little consideration in contemporary interpretations.
Without the knowledge of the rebirth of Jerusalem, statements about the future of Israel and that of the church of Jesus Christ cannot be exhaustively presented. With this knowledge, however, texts by Paul, Daniel and Isaiah, the end-time speeches of Jesus and even passages of John's Revelation shine in a new and unusually bright light.
Finally, it is shown that Paul already knew and taught these topics in great detail. It is shown that the Bible is reliable in all its statements.
The author is an architect, born in 1962, married and has four grown-up children. Among other things, he was a director at a German and a Swiss commercial bank, where he was responsible for advising wealthy private clients on real estate. He has been self-employed since 2006. As a sideline, he is active in preaching in the Evangelical Regional Church and in free-church congregations in Germany and Romania. He is the author of several books on biblical topics and runs a YouTube channel with the same content.